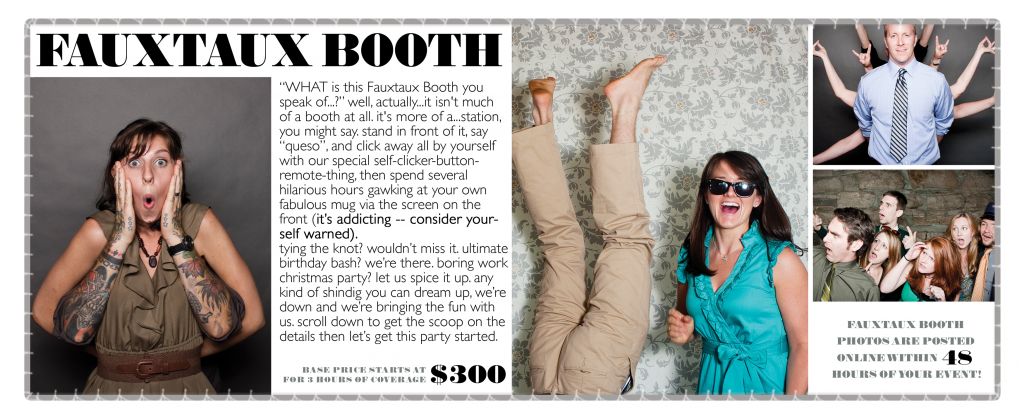 Q: where can i see some examples of fauxtaux booth photos?
A:  check out the Fauxtaux Booth galleries page to see the goodness!
Q: do you provide a backdrop or should we provide our own?
A:  yes and yes! we're definitely pro personalization and customization. perhaps your event will be held at a crazy cool venue complete with awesome brick walls, bales of hay, or outrageously colorful wall-papered walls and you'd like to utilize one of those options. perhaps your only option is that horribly dull corporate tan colored paint adorning every wall in sight and you want something different. in that case, we have a few options to offer ranging from plain colored backgrounds to cool fabric textures and are happy to work with you to create a backdrop based around your event's colors or theme. and if you have an idea of your own…we're happy to hear about that, too!
Q:  is there a limit to the number of photos we can take?
A:  only the sky is your limit — click the night away!
Q:  i've seen photobooths that actually printed out the photos on the spot, old school style. can your fauxtaux booth do this?
A:  at this time, we haven't mastered the fear of on-the-spot printing (or rather the fear that something will go terribly wrong with the printer leaving us looking like a bunch of cuckolds). we hope to add it to our arsenal one day soon!
Q:  where and when can i expect to see the photos posted after the event?
A:  no matter what your event, you will receive your own personal fauxtaux booth gallery for display on the world wide web at www.hannahelaineclients.com within 48 hours of your event. each guest that partakes in the fauxtaux festivities will receive a card with the web address and info of where the photos can be viewed after the event. the gallery will also provide the option for ordering prints.
Q:  will i get the pics on a disc and do i have to pay extra for the printing rights?
A:  included in all fauxtaux booth packages is a disc with all of the retouched, high-resolution photos from your booth. the disc will come with a photo release form stating that you have ultimate inalienable printing, facebooking, emailing, tweeting, etc., rights from that moment on until forever and then some.
Q:  what about props?
A:  we love, love, love silly props and add to our collection all the time. let us know if you're looking for something specific and we'll see what we've got up our sleeve. otherwise, you are most welcome to bring along your own! like we mentioned before, we're all about personalization and customization.
Q:  how much is this gonna cost me?
A:  that depends on what you're looking for. basic fauxtaux booth coverage starts at $300 (some wedding packages include this option so if you're interested in wedding packages, consult those first to get the best deal). custom backdrops, the use of our props, special logo branding on the photos, extra hours, the fauxtaux booth master dressed up like a chilean burrito…these things run extra so you'll have to contact us for a personalized quote.